What is it like to experience the Hungarian Grand Prix, near Budapest? Probably not a question you've ever asked yourself, but one I'm going to answer nonetheless. My sister and I are both big Formula One fans, and we really enjoyed the Belgian Grand Prix last year, when we dug ourselves into a hillside, so we decided that this year we'd go to the Hungarian Grand Prix.
I was coming from Poland, and my sister from the UK, so we agreed to meet in Budapest itself.
One of the things I love about central Europe is how con10nected everything feels, and how you can just casually cross borders overland. How can you fail to be beguiled by train station departure boards that list places like Prague, Moscow, Minsk and Berlin?
I was in Katowice at the time, from where you could take a direct train to 'Wien Westbanhof' (Vienna). On this occasion it didn't work out that way, for reasons I'll go into another time, but the theory still stands.
Having started my journey at about 9:15 in the morning, I finally rocked into Budapest Keleti station at around 23:00. Central Europe was experiencing a heatwave and the heat still hung in the air even at that time. Keleti train station, with its faded grandeur, feels like it epitomises Budapest. A gorgeous, crumbling hulk of a place train station, it was finished in 1884, and it feels like they haven't really done much with it since then, other than watch it, stroking their chins and occasionally saying "Decaying quite gracefully, isn't it?"
"Keleti?" said some dishevelled street dude, approaching me on a quiet corner of a dimly-lit street, with Keleti still in the background.
Experience told me it was best to ignore him. I'd been to Budapest three times before and knew the area round the train station to be dodgy. This didn't ring as an honest transaction as the train station was huge and in visible sight. Neither of us needed each other's help to find it.
"Keleti?" he said again, semi-following me.
"No thanks."
His demeanour instantly turned. "No thanks? No thanks for fucking what? You ignorant fucking rich!"
Welcome to Budapest!
I was short of time, so instead of helping him with his grammar I focussed on getting to the Airbnb apartment we'd booked. 'We' being my sister and I, not me and the street dude.
Airbnb
Budapest is a great place to be basing yourself for a Grand Prix for many reasons, one of which is the abundance of good, inexpensive accommodation. We'd booked ourselves an apartment in one of the many wonderful old tenement buildings in the city, with their enclosed courtyards.
Unfortunately, my sister had neglected to make it here herself. Finally able to check my phone messages, I discovered that she had missed the coach connection from Vienna airport. Some bloke on the information desk at Vienna airport had sent her – extremely confidently – to the wrong stand for her coach transfer, despite her double-checking with him, leaving her upset and having to spend the night in Vienna.
Still the place was decent enough, with a small kitchen and bathroom, and a couple of serviceable beds, though one of them (mine) had the most laughable excuse for a pillow I think I've ever seen. The only real issue was the lack of air-con, which would keep me awake for most nights I was there.
Did I mention it was hot?
Pit walk
The next day – Thursday – my sister turned up. Thursday at F1 events is generally pit-walk day. If you've got a ticket for the whole race weekend, you can walk the pit lane where all the teams are based, and maybe meet one of the drivers.
A free shuttle bus was due to run between Budapest and the Hungaroring circuit, but not on Thursday, so we took an Uber from the centre out to the circuit. It was quite an easy run out to the circuit – along a highway, then through some villages – and the driver took us to the main gate.
The pit lane walk was officially 16:00 to 19:00, but we got there nearly an hour early, and waited outside gate 8, where there were already plenty of people hanging about.
Hot hot hot
It was hot. Furiously hot. Crushingly hot. You-will-become-a-solid-block-of-carbon hot. Definitely you-will-use-an-umbrella-as-a-parasol hot. 40C according to the thermometer we saw (though the internet, rather unsportingly, claimed it was only 37C) with no shade. I've been hotter – I idiotically went to Dubai in the summer a few years ago, and it hit 47C – but that didn't make it feel any cooler here.
The track temp was 59C, so it was probably in that rough vicinity on the asphalt where I was standing, which had been soaking up the sun all day. This would explain why the undersides of my feet were beginning to feel uncomfortably hot, even through the rubberised soles of my trainers.
We started wondering aloud whether this would suit the Ferraris.
We waited in a huddle of team-shirts, sun hats and umbrellas. Some fan with a loudhailer – the self-appointed entertainment – tried to start various chants, with little success, before he ultimately ordered a minute's silence for Jules Bianchi, which no-one felt comfortable defying.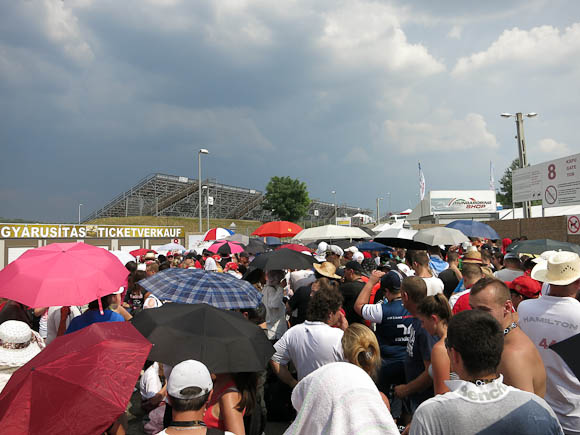 It was the first F1 race since Jules Bianchi passed away. Everyone was still there to enjoy themselves, but it was always there in the background for the whole weekend, and some people were wearing tribute t-shirts. The teams meanwhile all had their own small tributes on the cars, often in the form of hashtags such as #JB17 and #CiaoJules.
It's the pits
The time arrived and the gates opened. There was a surge at the front and then lots of jostling, and we all gradually squeezed through the bottleneck, people immediately charging onwards to get pole position in the queues for the driver signings.
At the top of the pit-lane, there were some signing tables under an awning, with long fenced off queuing area (already packed with people). Despite our British instinct to join it regardless of what it was for, we instead headed for the adjacent barriers, where the drivers would pass by on their way to the signing tables.
It was only two layers of people deep at said barriers, so we joined them and waited. Whilst we were there, a long-threatened (and much needed) storm finally arrived. Umbrellas popped up for those who had them, whilst 'sodden hair, sad face' became a popular look for everyone else. One fan who had painted his face for the event was now wearing a transparent poncho, giving a similar effect to an iced donut in a plastic bag on a hot day. Despite the discomfort, no-one was going anywhere.
Finally the drivers started appearing for the signing, arriving staggered, to cheers and calls. They performed their signing duties in the covered stand, then some of them came over to the barriers to sign things. From memory, Hulkenberg, Rosberg, Grosjean, Vettel, Massa, Nasr, Bottas and Hamilton all came over (I've probably missed a few). Raikkonnen, in his hooded coat, gave a wave as he passed, and still probably managed to exceed expectations, drawing a lot of love.
The stand-out guy for me was Lewis Hamilton, who gave the fans so much time and attention. I am a fan of Hamilton, but I'm a fan of the sport as a whole before that of any driver, and I felt like he set the standard. He really stood out for his cheerful and yet placid attitude, which was more than could be said for some of the fans. Most were respectful, though some of the older ones were using their kids as bargaining chips to monopolise driver attention, whilst some of the younger ones were using anyone ahead of them as a climbing frame.
With all the driver-related excitement over, we went for a wander down the pit lane. You could walk the whole length of it, separated from the teams' working spaces and the garages themselves by a line of barriers.
Most of the garages were open, so you could see into them. The cars were present, but almost all of them had bodywork removed, and were being worked on by engineers. We hoped to see some drivers in there – maybe some test drivers – but didn't spot any.
Perhaps the coolest thing was the practising of the pit stops. Whilst we were in the pit lane, Red Bull, Sauber and Marussia Manor were all practising. The car would arrive at low speed – pushed by hand, and with a team member at the wheel – and the process would begin. You could hear the judder of the wheel guns, and little crowds formed around each of the pits. Most of the attention went to the Red Bull team, but even the lowly Manor team were impressively fast and well drilled.
There weren't too many people there at first, but after an hour or so it was packed, and really quite claustrophobic – a shuffle-footed procession. So we got out of there and then took a late lunch of sandwiches and crisps at the end of the pit lane, which was a novel experience, and probably not an officially sanctioned picnic area.
Here's my video compilation of the pitwalk:
Friday etc
Friday was hot once again, and we delayed heading to the circuit for a wander around the city.
The weather affects everything and makes things more expensive. You sleep worse (unless you've got air con, which we didn't have in the apartment) and hence get up later, you have to take in a lot of liquids and stop to rest in cafes and the like, you take taxis instead of walking, and as much as anything else, it's just draining.
I kept reading how close and convenient the circuit was to Budapest, but it was still time consuming to get there, and not good weather to be doing long walks in, so we took Uber in once again, and this time paid for a taxi back to Budapest. The fares were 3,685HUF (€12) in via Uber, and 9,000HUF (€29) back via taxi (I don't think this was from the official taxi rank, which cost more, from memory).
With the difference between General Admission and Bronze being so small, we'd opted for seats in Bronze 2, at the back end of the stadium. But this was Friday, and some circuits let you use a weekend ticket to access any stand (aka 'Free Friday'), so we took the chance and asked one of the ticket checkers in one of the Gold stands (Gold 4) if we could come in. The gist of what he said seemed to be that it wasn't officially the case, but he'd let us in anyway. I still don't know if we were actually meant to be in there or not.
It turned out to be a good location (as you'd expect for stands called 'gold'). We got to see the cars skitter around a gripless-looking first corner, with Vettel and a few others running out of talent and having to take to the run-off area. We were also well positioned to see cars doing practice starts from a specially-allocated spot near where we'd had our sandwiches the day previously.
As soon as practice was over we had to hit the catering tent as it was way too hot to be sitting out all day.
Here's a quick video I made of Friday:
Familiar Faces
That evening we went out in Budapest and took dinner at Platz restaurant, on the square right next to St Stephen's Basilica. It was about €10-€20 for a main. Whilst this is expensive by Hungarian standards, it felt like great value given the location (go to a piazza in Venice and you can pay €10 for a cappuccino).
Whilst going for a wander afterward, I saw some guy sat out in a covered restaurant terrace wearing a red cap. From a distance you could easily have mistaken him for Niki Lauda, three-time world champion.
"That looks like Niki Lauda," I said to Janis, smiling.
"It is," she said, straight-faced, "And that's Toto Wolff [Mercedes Team Boss] sat next to him."
Bloody hell, so it was.
We hesitated over whether or not to go and talk to them – we didn't want to interrupt them if they were still eating – but then we saw someone getting selfies with them, and they looked cool with it, so we went up and said hi.
"I hope we're not interrupting your meal," I said to Toto Wolff.
"No, not at all! You're not interrupting," he said, with a big smile.
"I wish I'd met you yesterday," Janis said to Niki Lauda, "I had my Niki Lauda t-shirt on."
"Really?" he said, looking quite surprised, although clearly a more surprising turn of events would have been if he'd been wearing a t-shirt with my sister's name on.
We wished them luck for qualifying and then went off for a walk deciding that we suddenly really loved Mercedes.
Saturday Qualifiying
Saturday was another roasting hot day, and another day of taking Uber to the circuit. I'd never used it before, and was a little reticent having read of ethical concerns, but in this city, with the heat, it was a life saver, not to mention a money saver.
Knowing we'd be spending the race in Bronze, we stumped up the €36 to watch qualifying in one of the Silver stands around the last corner. Due to a mix up, we actually ended up with tickets in Red Bull, sandwiched between the Gold and Silver.
We were sat next to four big German guys who came and went repeatedly on beer runs (and possibly not-unrelated toilet runs). A lot of Germans have made the trip out here, what with their own GP having been cancelled for 2015.
It turned out to be a great spot – we got a prime view of the cars exiting the final corner, and we could tell who was finishing a flying lap and who was lining up to start one from the way they took it. The former were smoother, focussing on getting good exit speed. The latter were more skittish and full of micro-corrections as they tried to maximise their performance through the whole corner.
It was great to hear the growl and whistle of the engines full stop (I must admit to being a fan of the complex hybrid sound) as well as the DRRRRRRRRRR sound of them riding the rumble strips.
In the second qualifying session, Alonso's McLaren expired just before the final turn. We could see it on the screen as he pushed it up hill with the help of marshals, finally emerging into view from the stands, to great cheers and applause from the crowd. It was one of those moments that many F1 fans will look back on from having seen it on the broadcast, but there's something really cool about having been there.
The outcome of qualifying was that the two Mercedes were on the front row of the grid, which only happened because my sister and I wished Niki and Toto good luck.
Here's a quick video I made of Saturday:

Sunday – Race day
Again we took an Uber, and again it was breeze. This time, however, we had to exit the car much earlier – we hit a queue of cars at the village of Mogyoród and there was no movement. From here it was only a half hour or so walk up to the village. Roll on Uber Drone, something I envisage dropping you directly into your seat.
(NB since our trip, Uber have announced their withdrawal from Hungary due to changes in the law specifically targeting them. And the new law comes in… on the same day as the 2016 Hungarian Grand Prix.)
The approach to the Bronze section, at the back end of the circuit, felt slightly more downmarket, with temporary beer bars and adverts promising erotic dancers. We followed the track across a grassy common, the cooling sight of the Aquapark in the background, up the road, and inside the perimeter.
There were waayyyy more people here today, and the level of atmosphere had ramped up. There were also all sorts of archetypes: fanboys and fangirls; middle-aged couples sporting a different team each; groups of men with their previous GPs listed on their custom t-shirts; and so on.
All around people were showing their allegiance to a particular driver, team, nationality or a mixture: the Martini stripes of Williams, gaggles of red Ferrari caps, German flags with Vettel's name on, Finnish flags saluting Kimi. Plus an assortment of brilliant and stupid headgear.
And plenty of people, too, were wearing their own tribute to Jules Bianchi.
The spectator areas behind the stands had gone from cosy to queue-y. There were now queues for everything, including an excruciatingly slow moving one for the little coffee truck – it was a great day for an iced coffee, a sentiment which, unfortunately for me, large numbers of people agreed with. Perhaps they, like us, found the local Aldi closed this morning when they went to pick up breakfast. Others queued for the kebabs and sausages which sizzled in the shade of the catering tents, with cold beers in the fridge ready to wash them down with (although they did have salads and water, there, too).
It turned out that the map we used labelled Bronze 1 and Bronze 2 the wrong way round, but no matter. Our stand – Bronze 2 – is almost entirely full, and we're very happy with our seats, pretty high up, with a view out over turns 4, 5, 6, 7 and 8. Bronze 1 sits you right over the chicane (turns 6 and 7), which is great to observe the detail of braking and line, but probably reduces the view of some of the other turns.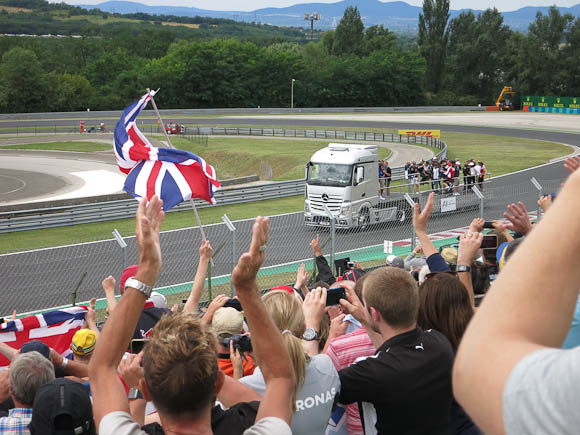 RIP Jules
Everyone went quiet for the minute's silence for Jules Bianchi.
On screen, we saw the drivers form a circle, the family of Jules included, with all the helmets in the centre. We all stood up, united in respect as fans. A spectator called out in German, reminding people to take their hats off. Then there was complete silence, save for the distant drone of music from a stall somewhere. The silence – and the mood – continued right to the end of the Hungarian National Anthem, which followed directly on.
It was a truly moving moment, a fitting tribute, and I think most people there were grateful for the opportunity to be able to show their respects.
Having gone through that emotional moment, the drivers now all had to get their heads together for the race. It wouldn't have been easy, as many of them would have known him personally.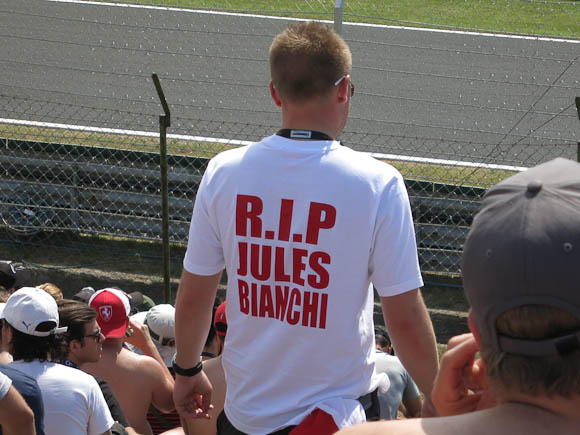 The race seen from my seat
The first start was aborted – Massa was out of position, so the cars came past us again on a second formation lap. Then they were away. On screen, the two Ferraris leapfrogged the two Mercedes, causing the stand to erupt into whoops and cheers. Everyone – everyone – was on their feet as the cars surged into view for the first time, diving into the tricky (blind) turn 4, before circling round and heading past us: two red cars, then two silver cars. Hamilton was arguably the biggest loser from the start, having dropped from pole to fourth.
As they came past, Hamilton tried to dive down the outside of Rosberg into the chicane, right in front of us, one front tyre smoking from a lock-up. The gap wasn't there though – he brushed the grass and then aborted the chicane in favour of the gravel trap, dropping to tenth in the process.
As the race unfolded, the Ferraris pulled out an unexpected advantage and we were treated to some great racing throughout the field. The German girl next to us got lots of chances to cheer her hero Ricciardo's progress in the Red Bull. Kvyat was well-positioned, too. One of the Manors was trailing well behind the field, having had to pit, but was getting generous applause as he came through all the same.
After taking a while to wrest ninth from Massa, Hamilton was now on a headlong charge through the field. The screen was too small / far away to be able to make out the timings, so my sister started taking old-school stopwatch-style timings on her phone. We watched him surge to fourth, then begin slicing great chunks out of Rosberg's lead in a thrilling chase, with backmarkers adding to the complication.
Then Hulkenberg suffered a dramatic front wing failure, going straight on into the tyres at Turn 1. We'd seen impacts like this many times before, and you could tell he was going to be okay. However, in light of the recent passing of Bianchi, everyone was that bit more sensitive to the wellbeing of the drivers, and a hush fell until it was clear he was fine and dandy. It was the same way all weekend.
The VSC signs lit up round the track, declaring a Virtual Safety Car, triggering a spate of tyre stops on the little screen. Then we went full-on Safety Car, giving everyone a chance to see (and cheer) the cars at a lower speed in front of us, weaving about on the short straight to generate heat in the tyres.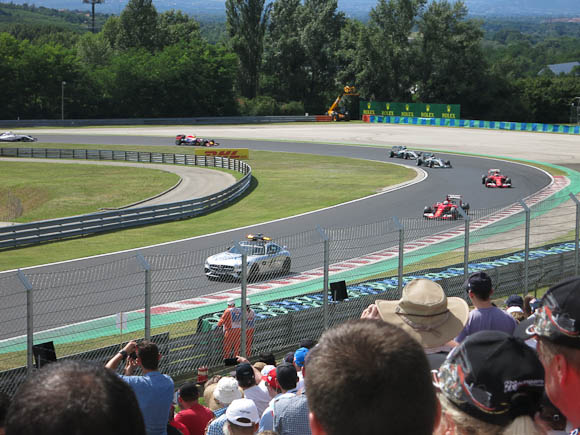 Ultimately, Vettel took a deserved victory, with Kvyat taking a popular second and Ricciardo third.
The Ferrari fans went predictably nuts as Vettel came past for the last time, with everyone else offering respectful applause, which is as it should be.
(Overheard from a Brit: "Vettel fans are like Conservative voters – where do they all come from?!")
Then he was up on the podium to the national anthems, with one guy in the stand in front of us proudly conducting the Fratelli d'Italia (the Italian National Anthem) as we all watched on the big screen. I thought it would be a bit of a shame to be in the wrong part of the circuit for the podium presentations, but in fact, there was a good atmosphere as we all watched it together on the screen.
The drivers all paid tribute to Bianchi, and there was a sense of some kind of closure, that he'd never be forgotten, but that we could all start to move on.
The aftermath
As the stands began to clear, my sister and I took strategic refuge in the catering tent, where we'd spent an awful lot of time over the course of the weekend. We were certainly both grateful to be staying an extra night in Budapest, so we could make the journey home at a leisurely pace.
It had been a crazy race. The girl serving me in the beer tent thought I was joking when I told her Alonso finished fifth. Hamilton, meanwhile, took an unlikely sixth, somehow finishing ahead of Rosberg, whilst Verstappen quietly bagged fourth – his highest finish to that point.
We exited, past queues of slow-moving vehicles, people celebrating in some self-made watchtower, and a man jigging about to pumping music, despite being in his sleeping bag.
On we went past the promised erotic dancers, one of whom was performing in bikini to an almost-completely empty tent, and had notes sticking out of her bottoms. Her bikini bottoms that is – she wasn't some kind of exotic alien with multiple backsides.
The next day we headed back home – my sister to the UK, and myself to Poland (via Slovakia and the Czech Republic, just for the heck of it). It had been a really cool Grand Prix, and one we both agreed we'd absolutely have to go to again.