Phew, that's that out the way. *Dusts off hands*

So how was your 2020? Mine was actually very productive albeit with added ennui. But I did at least manage to see and experience some fairly interesting things. And I'm going to share them with you, because:
(1) There's probably at least one thing in here of interest or value to you.
(2) I like the idea of a personal reminder that this year really did happen.
So here we go…
The best travel-orientated things
Before everything changed everywhere, I was actually out in Mexico and the USA, having fled Europe's oppressive (for me, anyway) winter darkness.
By April I'd be back in Europe again, leaving on the last BA flight out of Mexico City. It was like the evacuation of the embassy in Saigon, only with better in-flight food and a greater luggage capacity. Pluswe didn't have to board the aircraft by climbing a ladder to a rooftop, which is always a bonus.
Put together it meant I did at least get to see a few places in 2020.
The Starlight Express Coast Starlight, USA
Honestly, every single time I go to mention it, my brain hands me the name of the Andrew Lloyd Webber / Richard Stilgoe musical, rather than the west coast of the USA Amtrak train that runs from LA's gorgeous 1930s Union Station right up through Sacramento and Portland to Seattle. https://www.amtrak.com/routes/coast-starlight-train.html
I only did the bit between LA and Portland, but really enjoyed this as a way of seeing a little corner of the USA.
Some thoughts:
Amtrak is a real treasure.
Observation cars are great. Sitting in this one as the sun set, chatting to fellow passengers about their own journeys, was a real highlight of the journey.
It was almost stupidly cheap, at 67 USD for 12-hour trip. Admittedly, the same 370-mile journey would take under 6 hours by car, but there are times when you would want a longer journey, and this is arguably one of them.
Pretty much anywhere in Mexico
I love this part of the world (Latin America) so much, but I just don't get out here that much – I'm more of a train-travel-round-Europe kind of guy these days, not least because of climate change.
San Miguel de Allende was a good landing spot, despite the large community of (mostly) North American artists and retirees. I wouldn't normally go in for that kind of thing, but just to be back among the colonial architecture, the lively plazas, the familiar smells of gasoline and tortillas… I loved it.
Queretaro was good for a couple of weeks, with it's signature aqueduct. I particularly enjoyed sitting out in the city's plazas, in the company of what I was told were a type of fig, clipped (in fact let's say topiarised because we need that word to move forward as a society) into elegant discs that doubled as natural umbrellas on wet days.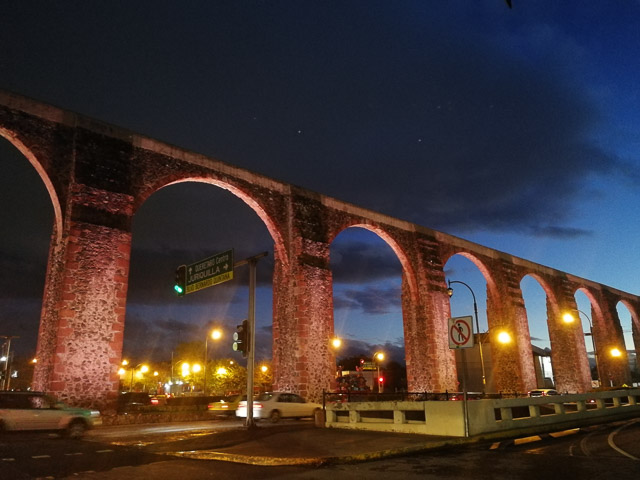 Getting back to Chichén Itzá, some 17 years after I first went there was a peculiar experience emotionally, but ultimately a healthy one – back felt like closing a circle somehow. That said, I probably actually enjoyed Uxmal more, just because it was new to me, and the main temple is just so stunning in that arcane kind of way.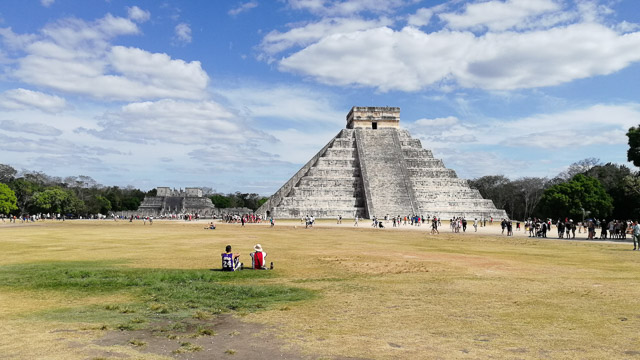 Here are a few more things, captured in video: seeing a Formula E race in Mexico City before the season was mothballed, and also travelling overland from Yucatan to Oaxaca State, including this well-known, but unusually empty beach resort, this casually gorgeous rest stop and this nest-building bird.
Most of my enjoyment of Oaxaca was restricted to the view from my apartment window, but there are certainly worse places to spend a month.
And that's without mentioning the food, which was Homer-salivating-meme good.
Warsaw's old town during lockdown
Warsaw's old town was destroyed during WWII by the departing Nazi Germans and then rebuilt immaculately in the period after using much of the same material. They did a good job (like I'm an expert in anastylosis, suddenly), though speaking as someone who lived in Warsaw for 2 ½ years, I can tell you that Warsaw's old town is mostly left to the tourists.
In this respect, it's very different to cities like Wroclaw, Poznan, Krakow, where it's the de facto heart of the city, and shared between tourists and locals alike.
The best way of travelling without travelling
Okay, don't laugh.
But the single best coping mechanism I had during the early days of lockdown was driving a giant graphical truck around the western states of the USA.
I'm talking about American Truck Simulator.
I've not spent much time in the cabins of real-life trucks, but I'm pretty sure that mouse-and-keyboard is not the preferred control mechanism. However, I found it pretty immersive and, more than anything else, wonderfully calming.
The game itself is about delivering goods from point A to point B, earning money in the process and advancing your career (ultimately buying your own trucks and a network of garages, for instance). And that's important, because having an aim (getting cargo to a destination within an alloted time window, and in one piece) adds a sense of purpose to the experience. Just driving around would quickly feel empty.
As it is, it's great.
I'm really not one for video games, but there's something about thrumming across Nevada's great prairies to a soundtrack of Neil Young (my music, not the game's) that's just really soothing for the soul.
Ten minutes in to any game, and I feel my shoulders drop and the tension seep out of me.
So yes, recommended.
It's also sale in the Steam store (stupidly cheap in fact) until 5th January 2021.
The best music (from the admittedly meagre selection I listened to)
Quite a lot of the music I listened to this year was actually just 70s road music to drive my graphical truck to. As a result, I listened to more Fleetwood Mac and Neil Young than is probably healthy.
But I also listened to other stuff. Fleet Foxes, for instance, who coincidentllay brought out a new album – Shore – in September.
These two lines particularly stand out:
May the last long year be forgiven
All that war left within it
Four Tet, meanwhile, who I love to write to, brought out two albums – Sixteen Oceans and Parallel, the latter sounding like late-90s Plaid in parts. Good to see that some creative people were truly flourishing during lockdown.
The most fun I had working
Making this video for The English Practice in Warsaw was a particular standout moment of 2020, mainly because it allowed me to muck about and still deliver something of value.
And yes, that is my own tea-sipping noise at 0:27.
The single most beautiful experience
It's rather fitting perhaps that it was something that happened on a screen.
A friend of mine posted an extremely enthusiastic review of a game to her feed some years ago. It actually came out way back in 2012, but wasn't available on PC until 2019 and, given I'm not a big gamer, it was only last year that I finally got round to playing it.
And the game?
In Journey, you play a becloaked traveller passing through the sandy ruins of a lost civilisation, engaged on something halfway between a quest and pilgramage. In fact, all you really know is that you're headed for a distant mountain. And I feel like if I say too much more, I'll spoil it.
I must admit that I didn't really get the fuss at first. Sure, it had a sumptuous look about it, sure, and the score matched the action well, but why such overwhelmingly good reviews?
But by the end, the sheer beauty of the journey, and the sense of meaning it imparted, left me with a sense of melancholy that took quite some time to dissipate. I think because real life doesn't have anything like as strong a sense of purpose, nor as clean an ending, and it compares quite badly all round.
Note that it's very short in duration – you can go through the whole thing in a couple of hours – although once you've played it through, you'll probably feel an urge to play it through again. And that's kind of the idea.
Some people are seriously moved by this game, and I was one of them. (In fact, if you're in a fragile state, you might want to skip it altogether. But that would be a great shame).
Journey is on sale in the steam store until 5th January 2021
The best books and audiobooks I read / heard / imbibed
I finally got round to reading (or in this case listening to) James Clear's Atomic Habits. It's an excellent book – the most comprehensive and actionable book I've ever read across on habits (and I've read a LOT, like three or something).
Perhaps I'm overstating the case, but it really made me feel like you can be a designer of your own life and start hitting the hight notes in life with the kind of regularity we all feel we should be doing.
I also enjoyed learning about the history of the USA through its presidents in Presidents of the United States of America: A History of America's Leaders. Not the world's greatest audiobook, but I know more than I did before, even if it's a bit of a mental soup of facts.
Oh, and do you know what's free on kindle in the UK as of today? Every book that George Orwell ever wrote. The UK's life-plus-70 copyright rules means that Orwell's works entered the public domain as of today, and at least one micro-publisher has republished his works at £0.00.
And while you might have read Animal Farm and 1984, there's still Keep the Aspidistra Flying, Burmese Days, Coming Up for Air, and so on.
Another revelation for me was how good Hemingway is as a foreign language learning aid. I've tried Harry Potter in both Polish and Spanish before now, and was defeated by the complexity both times. But Hemingway's writing style really lends itself to language learners, because it's so simple.
If you're leaning Spanish, I'd recommend trying El Viejo Y El Mar (The Old Man and The Sea), which I read a good portion of in those aformentioned plazas of Queretaro.
(Note that these are affiliate links, so I get some tiny commision if you buy them that way.)
The thing I'm most glad I did
About five years ago, I decided that I wanted to talk to my nan more.
As it was I'd give her a call every time I felt that little mental 'knock at the door' that I should be doing so, but I felt like this wasn't enough. After all, she was in her later 80s, and who knew how much longer she had.
So I decided that, instead of leaving it to whim, I'd start calling her on a regular basis. And to make sure it happened, I put it in my calendar. This might sound cold and mechanical – diarising phone calls to loved ones – but it worked, and that was what mattered.
Every Tuesday night, I'd give her a call.
Occasionally it would be the next day because I'd been out somewhere, but she'd always get a call from me sometime in the week.
Let's be clear – this wasn't highbrow, cultured discussion – we were just chatting about everyday life. But the regular calls brought us (even) closer together, and became a highlight of the week for both of us.
My nan died in December of 2020.
Not of COVID – although one rare positive of the virus was that it meant I ended up spending 6 weeks of lockdown with both her and my folks in the summer – but it still felt too soon, nonetheless.
Of course, being closer to someone means that it hurts that much more when they do go. But then that's the way it should be. And I wouldn't wish for it any other way.
Even now, my brain still gives me the occasional little knock, reminding me to call her, or something happens and I think "I'll have to tell my nan!" And then I remember. But frankly, I'll be more sad when that stops happening.
So, yes. Speak to those important to you while they're still here. You'll never regret it. And if that means putting it in your calendar, so be it. All that matters is that you do it.
I'll leave you with Emeli Sandé's version of Abide With Me from the opening ceremony of the 2012 Olympics, and its message about life's fragility.
Stay safe, and here's to a better 2021.