Everything seems to stop in Wroclaw on Sundays, even more so than back in the UK. People just vanish from the streets and even the cafes are mostly empty. But it's my one day off this week, so I want to do something with it.
I decide that I should go on an Artist Date, something I spoke about fairly recently. In reality, I'm just going to go off and explore someplace on my own, like I do normally. The difference is purely in the name, something I'm uncomfortable with for reasons I'll explore sometime in the future.
Screams
So, what is there to do in Wrocław on a Sunday?
I don't fancy going to a museum – I spend most days cooped up in a building – so I decide to go for a wander in the south of the city to check out the neighbourhood of Krzyki (ksh-ICKY). It's a place which appeals to me partly because I've never been there, and partly because it rhymes with 'icky', but mostly just because it's Polish for 'Screams'.
After about twenty or more minutes on the tram, I reach the end of the line. I guess this must be Screams. You'd think you'd hear it coming, right? Mind you, what the tram calls Screams and what Google Maps does are two different things. Perhaps that's why it's so quiet here. Perhaps I'm in the adjacent neighbourhood of Gentle Whimpering.
There's not much here bar the tree-lined main road that I'm on – I'm at a momentary break in the urbanisation. But a map at the tram stop tells me that Park Południowy is just nearby, so that's where I head. My Artist's Date, it therefore transpires, is going to consist of me wandering round a park in the cold.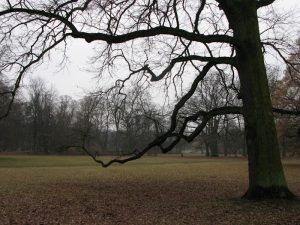 Parking Up
I'm not the only person in the park: other folks are out and about walking their dogs amidst. The dogs all seem eager to introduce themselves to the pond, so I stay a cautious distance, knowing dogs and their tendency to favour the rotational method of drying.
Other than the people and dogs, there's very little action. The high point of adventure comes when the attendant in the toilets has no change and I have to slightly underpay her, causing a certain tension. But at least the park gives me the chance to stretch the ciliary muscles in my eyes, to indulge in a little photography and to just experience the place.
It's not a particularly nice day, but that doesn't mean it can't be an enjoyable one. It just means I need to stop awhile and smell the roses. And it turns out there's lots to experience if I give my senses permission to wander a while. I slow down and tune into the subtleties. Like the bronze leaves that shiver gently in the breeze, against a backdrop of crowing blackbirds. Or maybe they're crows, I don't know. Did crows get their name because they crow, or was it the other way round?
Well, well, well
Eventually, the cold has been nagging at my toes long enough. I leave Screams behind and head back to the welcome warmth of my city-centre flat.
I don't know if this Artist Date replenished my well of ideas – going to a park isn't exactly outside my comfort zone. I'm not even sure if taking photographs is adding to that well of ideas that Julia Cameron talks about or subtracting from it.
But I do know that deliberately taking a day away from my writing has replenished my mental energy. And that I appreciate the crisp cold when I've spent so long being cosseted by central heating. And that every new place that I go to expands my relationship with the city.
But most importantly of all, I can now tell people I've been to somewhere called 'Screams', and you can't put a price on that.
Have you ever been on an Artist Date? Was it just like a normal trip out but with more chin-rubbing? Did it take place somewhere named after a piercing sound? Let me know all about it in the comments below.