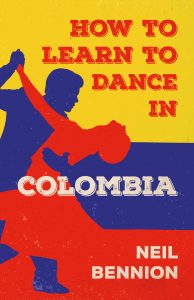 After learning how to dance in Colombia (chronicled in Dancing Feat) I decided I wanted to share what I'd learned. So I've brought out this mini-guide. Please excuse me whilst I switch to my Amazon product description voice…
---
Thinking of visiting Colombia?
Dance is an integral part of the culture of this amazing South American country. To go all the way there and not dance would be to miss out. But where to even begin?
In How to Learn to Dance in Colombia, you will discover:
The single best dance to learn (and guess what – it's not salsa)
Who it's okay to dance with – and how to ask them
The best cities for dancing
How to find a good dance school
The three stages your mind goes through – and how to deal with it
What to do if you don't speak Spanish
How to recognise all the different kinds of music
How to tell if a dance partner is attracted you
Techniques for remembering all your new moves
The one simple tip for overcoming dance fear
How your mind plays tricks on you – and what to do about it
Why be the foreigner watching dejectedly from the sidelines, when you can be up there shaking your stuff and having fun with the locals?
How to Learn to Dance in Colombia is here to give you the heads-up on all of it, and to be your guide to learning how to dance in this amazing country.
---
Interested?